V souvislosti s ukončením některých dotačních programů v sousedním Polsku, ale taky významnému fotovoltaickému boomu v České republice směřují na náš trh komponenty pro konstrukce elektráren prezentované jako polské výrobky, po detailnějším průzkumu však očividně s nejasným původem některých částí či vstupních materiálů.

Když dva dělají totéž, není to totéž
Zaměřili jsme se proto na porovnání některých prvků, které se na trhu vyskytují až s podezřele nízkou cenou, a potvrdilo se úsloví, že když dva dělají totéž, není to totéž. Jeden z háků jsme spolu se vzorkem z naší produkce podrobili testování, primárně pak korozní zkoušce v solné komoře.
WT WINTECH hák HCS5 s lehkou povrchovou korozi
Srovnání s konkurenčním výrobkem
Korozní odolnost je jen jeden z problémů
Kromě toho, že střešnímu háku chybí některé komponenty pro pohodlnou montáž, jako například příložka proti pootočení nadstřešní části, jsou i některé jeho prvky navrženy z polotovaru o menší dimenzi a při montáži se pak nadstřešní část deformuje, což může vést k poškození střešní krytiny.
Detail nadstřešní části háku HCS5 WT WINTECH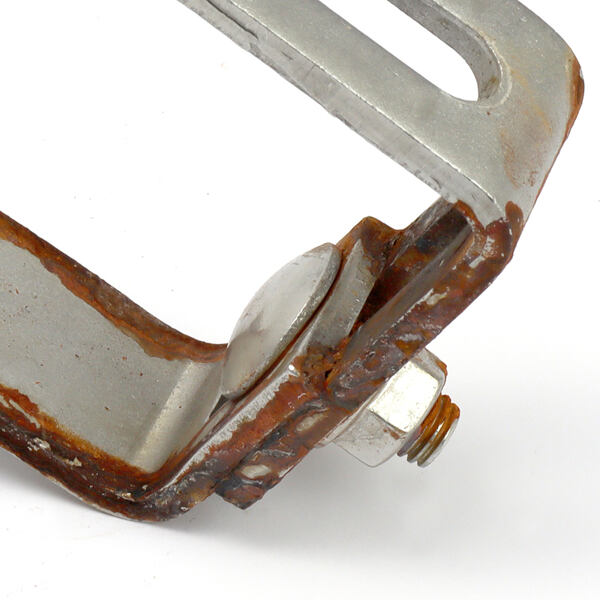 Detail nadstřešní části konkurenčního výrobku
Oba výrobky jsme umístili do solné komory a 1500 hodin, což odpovídá zhruba šesti až osmi letům v reálných podmínkách střední Evropy, simulovali vliv prostředí.
Z porovnání po ukončení testů vyplývá, že zatímco na našem výrobku se objevila lehká povrchová koroze na kotevní desce umístěné pod střešní taškou, na levné variantě pozorujeme hloubkovou korozi jak na kotevní desce, tak na nadstřešní části.
Při standardních podmínkách nejspíš nehrozí deformace či zborcení fotovoltaické konstrukce, nicméně při výraznějších vzduchových poryvech a jimi způsobeným dynamickým namáháním háku může velmi reálně docházet ke zhoršování jeho statických vlastností. To vše nad výrazné riziko poškození střešní krytiny nebo fasády stékající rzí.

Umíme to lépe
Ve společnosti WT WINTECH a.s. bereme kvalitu námi vyráběných FV konstrukcí velmi vážně a proto náš sortiment podstupuje třístupňovou kontrolu kvality a na trh uvádíme jen ty výrobky, které jsou pečlivě testovány a aplikačně odzkoušeny.
Samozřejmě, míra rizika přímo svázaná s "výhodností" obchodu je vždy otázkou rozhodnutí zákazníka, nicméně naše strategie, dlouhodobé zkušenosti a zpětná vazba od našich zákazníků dlouhodobě utvrzuje a posiluje naše moto – kvalitou k úspěchu.
Jako výrobce si společnost WT WINTECH a.s. zakládá na kvalitě našich háků a držáků, a proto jsou všechny kontrukční prvky vyráběny výhradně z nerezové oceli jakosti minimálně 1.4301.
Jak probíhá korozní zkouška?
Korozní zkouška v neutrální solné mlze dle ČSN EN ISO 9227 byla provedena v korozní komoře Liebisch SKB 400 A-TR, koncentrace rozprašovaného roztoku NaCl (50±5)g/l, zkušební teplota (35±2)°C, spad solného roztoku 1,5+/-0,5ml/hod (80cm2).