In the begining of 2022, we equiped our quality control department with new automatic optical measurement tool Keyence. 
Digital measurement system IM-8000 is able to display in high resolution and it has three times higher detection performance than other conventional systems without the expense of difficult operation. Due to 20 megapixel CMOS sensor and a new algorithm, it is possible to measure 300 points in a few seconds with a high precision. Newly developed rotational unit can also rotate objects of various dimensions and shapes and to keep them in horizontal position, which allows 360° measurement of various surfaces simultaneously. The measurement system uses programmable lighting, a luminous probe and a rotational tool.
Following elements allow better control productivity and measurement rate.
Time loss caused by part placement or data setting drops out.
A single button can measure 300 dimensions in 100 parts simultaneously.
Automatic saving of measured data and creation of control messages.
Automatic detection of measuring points ensures constant measuring results.
Automatic focus settings prevents the development of uneven data 
Simple operation ensures consistent measuring results independent on the operator
Simple setting up by a single button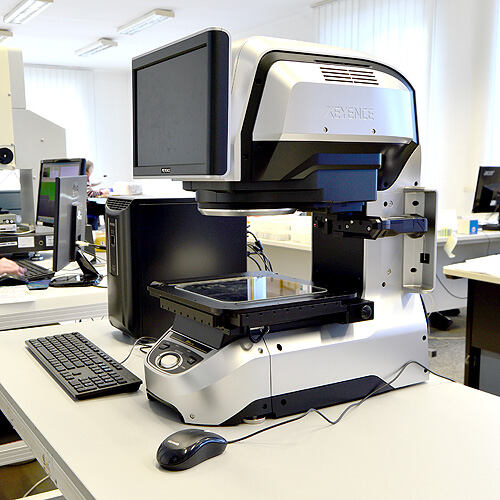 Programmable circular lighting unit
Programmable circular lighting unit integrates multiple functions of circular lighting into a single unit. This allows control of a broad spectrum of elements without the need of lighting change; maximizing efectivity. It allows to extract edges with optimal lighting conditions.
Lighting probe unit
Lighting probe unit is able to measure parts with deep shapes, rounded corners and other shapes precisely. Such shapes were measured with a lot of difficulties in the past. The lighting probe unit uses small measuring power of 0,015 N; eliminating risks of deformation during the measurement process of soft parts.
Rotational tool
Thanks to the rotational tool, we are able to measure multiple surfaces simultaneously on a single object. The tool rotates in 360° and there is no need to produce special tools or change the object orientation manually on the measuring table.
KEYENCE system is able to measure 300 points in just 3 seconds.
It speeds up the measuring process significantly.